It was late 2018 and Natalie Merchant was in London visiting the V&A museum when she felt her arm start to tingle and then go numb. Next came intense pain. She flew home immediately and within days was in hospital having an MRI. The results were not good: she had a degenerative spinal disease. "My spinal column was collapsing into my spinal cord," Merchant says. "I needed to have emergency surgery." The six-hour operation involved making an incision below her throat and shunting her vocal cords to the side while surgeons removed three bones from her spine. When she regained consciousness after surgery Merchant discovered she could no longer sing. "It took me to a place of panic," she says. "It made me wish I had made more records."
Merchant had been a much-cherished singer-songwriter for more than four decades: she joined the alternative rock band 10,000 Maniacs at the age of 16 in 1981; 12 year later, she left to pursue a solo career. Now, an enforced silence stretched from weeks into months, and Merchant started imagining a post-music career sewing, creating artworks and gardening.
But I am meeting her in a London hotel where she is promoting Keep Your Courage, her first album of original material in nearly a decade, and just the tip of the iceberg of her recent activity. "I have not been putting my feet up!" says Merchant, now 59, as she outlines her work in community organising, and environmental campaigning against fracking. Prior to her medical emergency she also rearranged earlier songs for strings, directed a documentary on domestic violence, curated a 10-disc box set and recorded a collection of songs based on old poems, lullabies and nonsense verse, all alongside raising her teenage daughter as a single mother.
Merchant didn't write and record any new material thanks to the demands of motherhood. "Lyric writing demands solitude and when I am in that state there is no eating, no stopping. I won't leave the house for days until it's done," she says. "I did not want to do that to my daughter. I did not want to be one of those artists that valued my work more than my child. I thought if I never make another record, she is the accomplishment on my deathbed." Her spinal condition seemed to make the decision final.
While she was still unable to sing and with the world in lockdown, her friend (and Newsnight presenter) Kirsty Wark sent Merchant The Long Take, a novel written in narrative poetry by the Scottish poet Robin Robertson. "I remember opening the book, reading the first chapter and writing to him immediately," she says. "I then sent him a copy of my box set, he sent me some of his other books and I just fell in love with language again." They started corresponding, and – to her great relief – she regained her voice, and started writing songs inspired by their conversation.
These feature on Keep Your Courage, an album whose theme is love in its myriad guises. "Love will leave you wounded / love will bring you harm," she sings on The Feast of St Valentine. "Love will be the curse and be the charm / Love will be the bruising and the balm." The music melds traditional folk with chamber pop, lush orchestration and soul. "It's almost as if I have to invent a new word to describe the music on this album," says Merchant. "I don't even know what to call it."
The cover of Keep Your Courage features an image of a sculpture of Joan of Arc that Merchant first saw as a teenager growing up in Jamestown in upstate New York. Born in 1963, she was the third of four siblings – her parents divorced when she was seven, and she was brought up by her mother. "She was an alcoholic and we never knew who she was going to be next," Merchant says. "I was told not to think there was anything special about me. My mother would just say: 'What makes you think you should have a job that you actually like? Life is about waking up every morning to do something you hate with people you don't like.'" Merchant was dyslexic and shy, and found a way to express and understand herself through music. She went to college at 16 and became a DJ on the college radio station. "I remember playing Joy Division's She's Lost Control for an hour straight."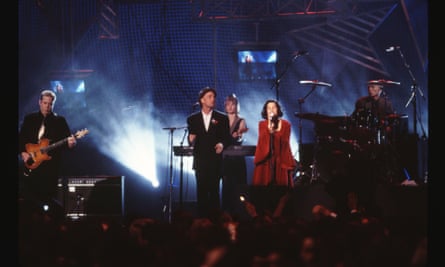 One day in late 1980, Merchant – who was still only 16 – went to an open mic audition in her home town, improvising lyrics based on a book she had bought earlier from a charity shop. "I had smoked some pot," she reasons. The others were impressed enough to ask her if she wanted to be their singer; Merchant dropped out of college and joined the band, later named 10,000 Maniacs.
They signed with Elektra and their albums The Wishing Chair, In My Tribe and Blind Man's Zoo were acclaimed for a jangly, lilting, reggae-infused sound that reminded one critic of "Debbie Harry fronting a folked-up New Order". 10,000 Maniacs sang about poverty, pollution and the plight of the illiterate but also appeared on Johnny Carson's primetime chatshow. Merchant was much younger than everyone else in the band and the only woman. "It was frustrating at times," she says. "The record companies saw the raw material for making a starlet. I thought of myself as a serious artist and it did not make any sense for me to be wearing a short tight skirt when I'm singing about societal disparities." She recalls being asked by one magazine to wear a bathing suit. "I started crying," she says. "I told them my aunt had died and I had just had the news – I invented a dead relative and got the fuck out of the room."
Merchant felt misunderstood and unsure of her place in the music industry but that changed the first time she heard Michael Stipe sing. "There was something about his voice that I was really attracted to," she say. "It was something very primal and which made me feel connected to him, so I sought him out." Merchant and Stipe became friends, briefly dated, and REM and 10,000 Maniacs toured together. There were other friends including Philip Glass, David Bowie, Patti Smith and Allen Ginsberg. "The first thing Allan said to me was: I hear you've written a song about Jack [Kerouac]", she says. "We eventually became friends and before he died he gave me one of his harmoniums." At a memorial for Ginsberg, Merchant appeared with Smith and later that night they ended up in a club singing Because the Night together.
There were also less savoury encounters. A television journalist in New York interviewed her and then made a sexual approach. "He grabbed my arm and tried to pull me and said: get in the car," she says. "My manager was there and told him to back off, but I wonder what it would have happened if I'd been by myself."
Merchant's gift is that her songs are not always comfortable listening, but they are comforting. Tell Yourself was written after a niece attempted suicide at 13, Life Is Sweet offered hope to those "who have jobs that make them feel beaten down" and Wonder was inspired by working at a day camp for children with special needs. Even in a bland hotel room, Merchant radiates empathy. She tells me about a young woman she met a political rally who was an activist for disabled people. "She said: I started listening to you when I was a teenager, and your song Wonder completely changed the way I thought about myself," she says, tearing up. "That's pretty profound, to have had that influence."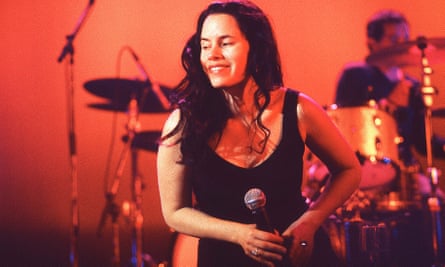 Merchant left 10,000 Maniacs in 1993 having felt that she had outgrown the band and went on release a series of solo records starting with Tigerlily, which sold 5m copies in the US. She hasn't matched that level of popularity since, but "there is a certain loyal base of people who will be open-minded about whatever it is I am doing," she says. "Whether I am doing klezmer music or early jazz or so many different styles of music that I have explored since I went solo – people will go with me on the journey."
Merchant is now fully recovered from her health crisis. It's nine years since she did a tour that lasted longer than three weeks: her world tour begins this month and will come to the UK in November. "Writing is a solitary time of tinkering and pondering," she says. "Studio work is communal but it's more like a massive building project that requires engineering and so much diplomacy. Live performance is when I get a chance to roam around inside the structure I built and discover unexpected things, marvel at the acoustics or linger in my favourite room to notice the way the light pours in a window."
She is also learning Italian in preparation for a future musical project that will adapt Italian poetry. "I fund everything myself so there is no diluting the work; I don't consult with anybody in the corporate realm. I take the risk and I accept the risk. My relationship to the music business is very remote – I exist in my own world."
Motherhood had both expanded and shrunk that world but with her daughter having left for college in late 2021, Merchant is relishing being newly free again. "I've been able to rediscover myself as a creative person," she says. "I feel like I can do anything I want."