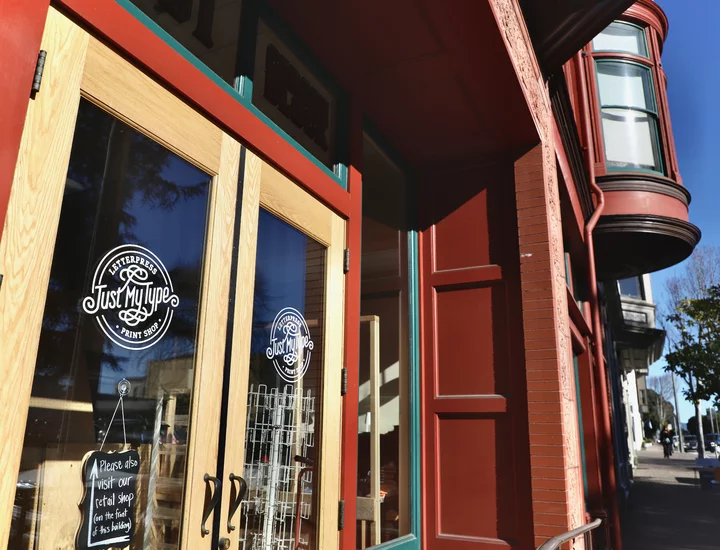 If you find yourself walking
down Third Street in Old Town Eureka in the afternoon, you might get
lucky and see a vintage letterpress in action. You will not be able
to tell, but this thing is loud, repetitive and fun to watch.
It's
an old piece of machinery with a small motor mounted on its side that
allows for quick motion and even faster printing. Using a mounted
linocut, or carved linoleum block, ink is rolled onto its surface and
it is then pressed onto paper or fabric to produce a print. As the
ink roller lifts, a human replaces the paper over and over in a
rhythmic motion. It simultaneously seems rigorous and delicate when
you see the designs make it onto a sheet.
If
you care to walk in the building you will see there is paper
everywhere, organized in various ways that only the people involved
will know where things are. In the middle is Lynn M Jones, 44, the
woman who makes all of this go.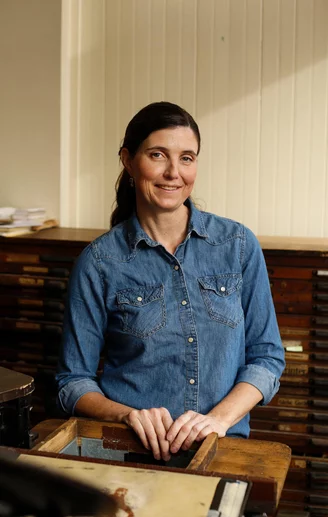 Jones,
owner of Just My Type Letterpress Paperie and Lynn-oleum, built an
institution in Humboldt. She operates a card and gift store, designs
and manufactures a line of wholesale goods, prints the letterpress
portion of the packaging for Dick Taylor Craft Chocolate, and creates
original, limited edition linocut art.
Originally
from the East Bay, Jones came to the lost coast as a student and
soccer player for Cal Poly Humboldt in 1996. As part of the Arts
department, her emphasis was in graphic design. Before long, a field
trip to Oakland that led to an internship with David
Lance Goines carved her path going forward.
"He
taught me how to use the letterpress and how to carve linoleum
blocks," Jones said. "I was hooked."
After
she graduated in 2000, she worked for Goines for a year. After the
September 11th attack, people stopped buying art and Goines could not
keep her Jones employed. But Goines allowed Jones to use his machines
so that she could pursue her own projects. Then in 2003, Jones
officially filed for her first business license for Just My Type
Letterpress Paperie. Most of the work she did at that time was in the
form of wedding invitations and business cards – strictly custom
work, all done by hand.
"It
was always sitting with clients and hashing every little detail,"
Jones said.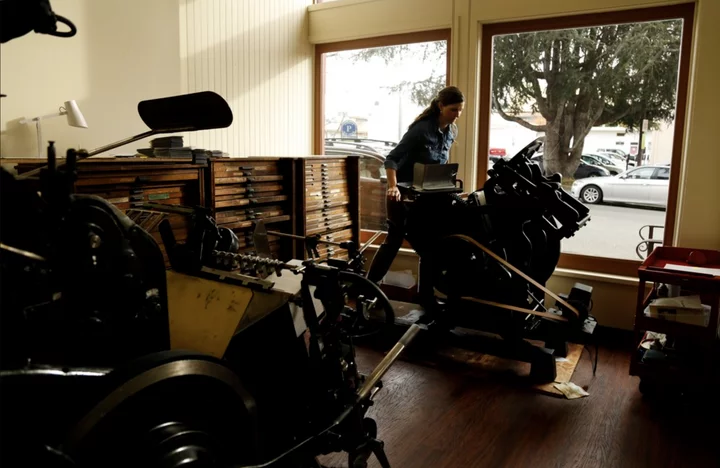 Jones
continued her work after returning to Humboldt County and before long
the old Lambert McKeehan Inc. Print Shop was closing. Jones was asked
if she wanted dibs on anything they were selling. She bought
everything she could use and set up a print shop in South G street
Arcata.
"Facebook
didn't exist and it was hard to get the word out," Jones said.
"The idea was to be a limited edition artist. So that business
slowed to a stop after three years."
That
is when Jones decided that it was the perfect opportunity to take a
break and start having children. She took a six-year hiatus and sold
the things that she thought would never use again. What she did not
sell, she kept tucked away in a storage unit. As a steady income
while she reared her two children, Jones took on a part-time to
eventually full-time gig for the North Coast Journal as a graphic
designer.
While
on hiatus, the owners of Dick Taylor Craft Chocolate bought a
garage-sized print shop from a person in the Bay Area. Jones taught
them how to use the letterpress and they did their printing out of a
garage for five years. As they ramped up in 2015, Jones offered to do
the printing for them for a year.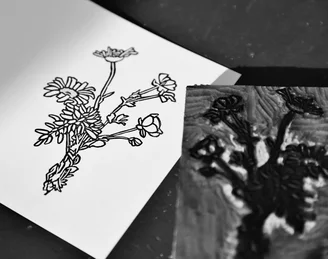 "You
spend a lot of time thinking when you're working the press,"
Jones said. "I remember thinking 'If they pay me a little more, I
can open up shop elsewhere.'"
Then
in 2016, a retail space in the Carson Block Building at the corner of
Third and F became available, and she took it with a coworker. This
time, Just My Type began to pick up in ways they had not before. She
found a press refurbisher in Fremont that sold her the letterpress
she now uses daily. She specifically purchased this machine because
it allows her to use linoleum blocks that were larger than regular
printing paper. She can print up to 18" x 24" poster-sized
designs.
With
that machine, Jones took over printing the designs on the envelopes
of Dick Taylor chocolate bars, and has been doing that work for
the last six years. In 2022, Jones printed roughly 500,000
impressions for them. Just to give you an idea, one specific
letterpress is used every afternoon for three hours. A person can
reasonably print a design on one thousand envelopes in an hour,
depending on the complexity of the design. Possibly 40 minutes, on a
good day.
Another
reason Jones prints on one particular manual letterpress is because
of the paper being used. Next time you eat one of those chocolates,
consider the thickness of the envelopes. An automatic paper feeding
machine will have a hard time cycling through them and there can be
more room for error.
Leading
up to 2019, Jones began printing and selling wholesale items, and she
needed more space. A dress shop left an F Street retail space vacant
and in May 2020, Jones moved her whole operation there. Only to find
out a year and a half later that she needed even more space, she
managed to expand by connecting the F Street and Third Street spaces.
"One
of the presses couldn't fit through the door of the retail space so
we needed both," Jones said.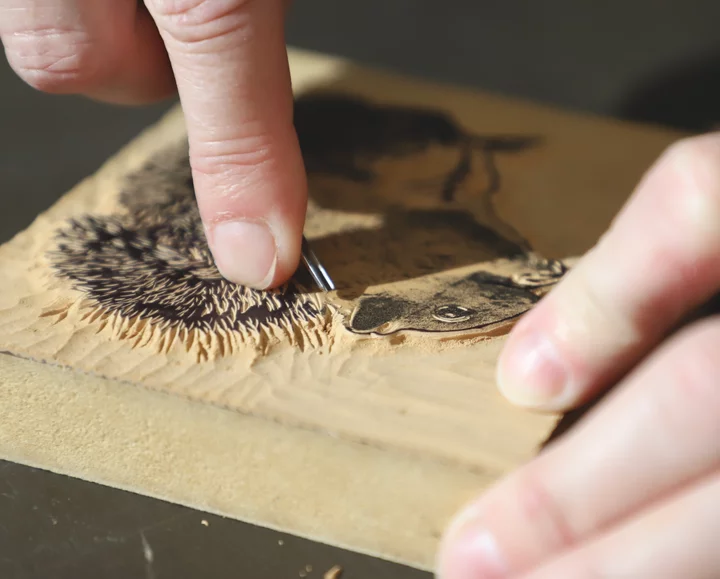 With
her wholesale items reaching over 100 stores as far as Maine, Jones
joined the Greeting Card Association (GCA) and dove headfirst into a
whole new world. She found out about the Louie Awards and began
submitting her designs.
"The
Louie Awards are like the Oscars of the greeting card world," Jones
said. "And I've won a few."
Her
first win was in a new category called "Trends and Events." She
created the card long before she joined the GCA. It was a customer
who suggested it "They
tried to bury us, they didn't know we were seeds."
"The
image popped into my head. I sketched it, carved it, and printed it
on seeded paper," Jones said. "The hook of it is, if you soak the
card overnight and plant it, flowers will grow.
Nowadays,
Jones has a seemingly endless stream of projects coming in and out.
If
you have not already seen, Jones has made a beautifully detailed
collection of 12 Eureka Victorians linocuts. She took pictures of
each building then sketched them in her sketchbook. She then
hand-carved the linoleum blocks, hand-printed them on her vintage
letterpress, and hand-painted them.
You
cannot buy the originals but she does sell them in card form, poster
size, and stickers on the Just
My Type Letterpress website.
One of Jones' machines in action.