BLOOMINGTON — Moments after Micah Dalton dove into character as a minstrel, hundreds of Oakland Elementary School students were hooked.
Dalton and dozens of other Bloomington High School Drama Group performers and costume designers dazzled their junior peers on Wednesday with a preview of their spring musical, "Once Upon a Mattress."
The BHS troupe gave a sneak peek to four District 87 elementary schools, beginning at Oakland. The mini-tour that morning also made it to Bent Elementary, Stevenson Elementary and Washington Elementary, displaying highlights of the musical's two acts. The show's three-day run starts at 7 p.m. Thursday, March 9.
Miranda Guevara, BHS theater and English teacher, said the pre-show rounds work as both promotion and recruitment for the drama group. She described the musical as a fun, lighthearted story, also a campy spin on the original "Princess and the Pea" tale.
Tracy Koch, artistic director with miOpera and musical director for the show, added: "It's like the Monty Python of musical theater."
The minstrel was joined by an ensemble of other high school actors who sang out a call for a princess as "delicate and dainty as a dragonfly's wing." The sample of musical numbers exhibited an array of moods, from bouncing and energetic to wistful and cunning.
Oakland Principal David LaFrance noted to the audience before the show that several performers are former Oakland grade school students. He suggested they could do drama too when they're older.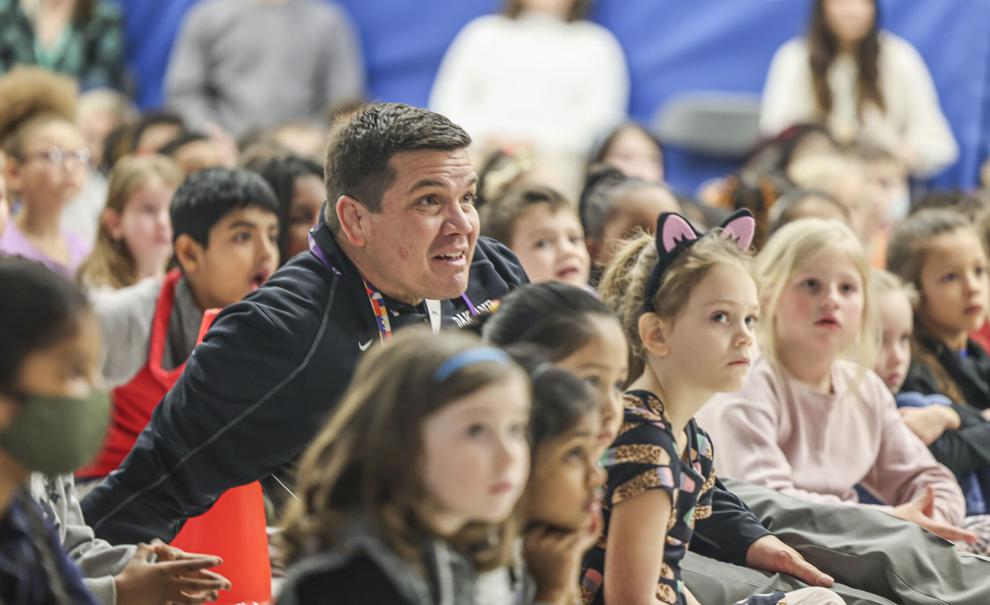 Among the cast was Blake Heinonen as King Sextimus; Heinonen is also son to Oakland first grade teacher Elana Heinonen. There was no doubt that the mother and teacher was proud of her son.
"He's a king … he's every parent's dream," said Heinonen. She observed one student in her class, Harry Andres, clapping along to the music.
Andres agreed the cast has a powerful voice and said he would probably pursue theater, too. He said the dancing and twirling were the best parts.
Another student of Heinonen's is Leah Alden. She said she liked the cast's dresses and shoes.
Hyping up
Leading in the role of Princess Winnifred is Lareina Green. A Friday's rehearsal, the BHS senior said it takes a lot of hype to portray the princess.
"This character has so much energy that I need to have it almost in every song and every scene," Green said, adding that it takes a little help from her friends, too.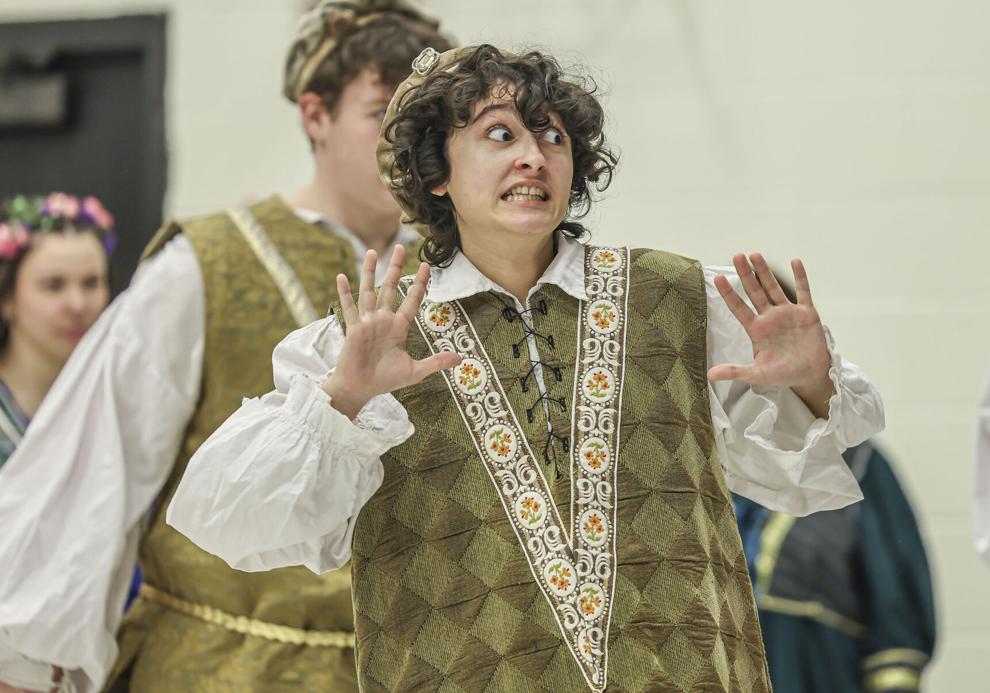 Green transferred to BHS in her freshman year after being enrolled previously at McLean County Unit 5 Schools. Green said she was initially nervous, but eventually made at least three best friends in the drama group. Those friends have graduated already, but she said they continue to do theater together.
Green doesn't plan on a career in drama, but said she'll stay involved in community theater as a hobby. She's set on courses at Heartland Community College with intentions to transfer.
Green said her final spring musical at BHS leaves her feeling bittersweet. She said she'll no longer be working with the same musical director, but her graduation offers underclassmen their chance to shine.

On stage: Witty lovers drive Illinois Wesleyan's 'Much Ado About Nothing'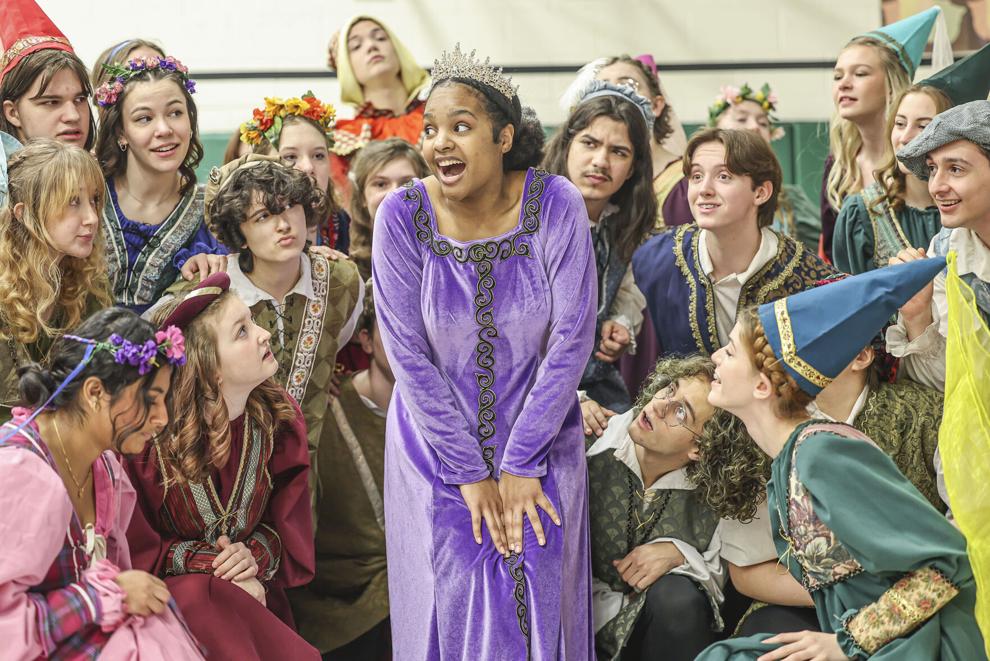 Building back
Guevara said the drama group puts on a high-quality production that's also family-friendly. She noted they brought in a professional lighting contractor and will have BHS' orchestra as accompaniment.
It takes almost 100 students to put the whole production together. She counted 45 on stage, around 20 in the pit and another 20 building stages and costumes.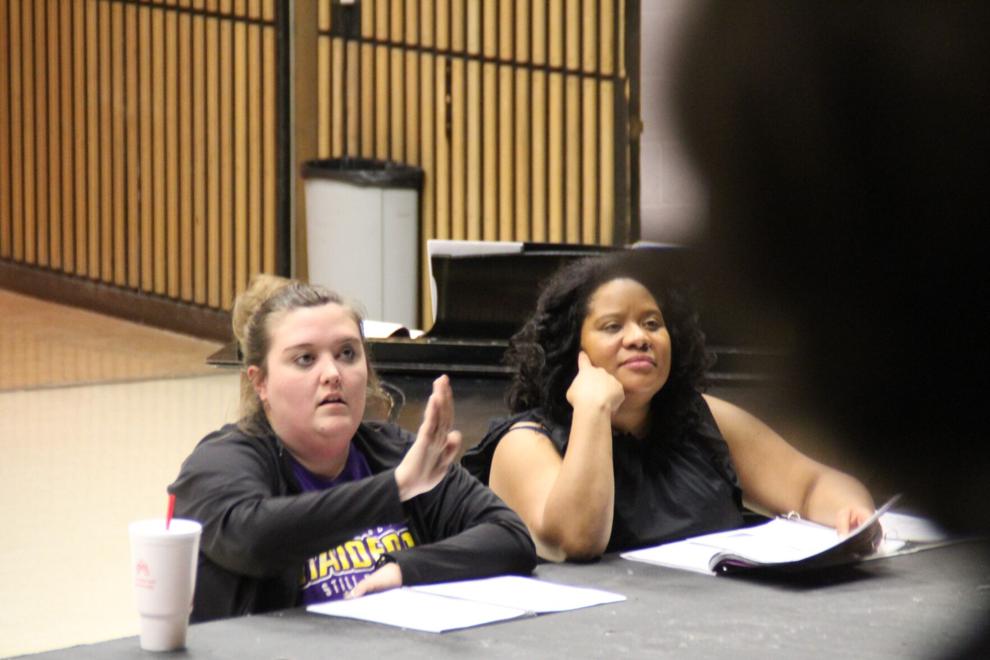 Koch said they believe in incorporating an entire vocal technique into a performance. That means more than just learning notes.
She said they learn to use breath support and develop techniques to improve their sound.
"It's almost like music education within the show," Koch said.
To tell a story through music, she said they use music as a motivator, by emulating what's happening via the emotions in their voices. Between those numbers, Koch said acting scenes will carry the plot forward with action.

On stage: ISU's 'Men on Boats' reimagines history
Guevara said the theater program is a good foundation for students who may wish to pursue an on-stage career. She said they all can gain life skills like problem solving, working with a group and being creative.
"Here, you are building a world with other people from different backgrounds and coming together to create one artistic vision," she said, "which I think we use in all of our careers."
Guevara said alumni often come back to help with or donate to school productions. However, she said they're still building back their community from when pandemic restrictions were put in place.
Guevara recalled their 800-seat theater at BHS being filled in her early years with the district. This musical, she said, will be their first in three years without mask mandates or audience limits.
She encouraged the public to attend, and said: "Everyone is always left impressed with our products."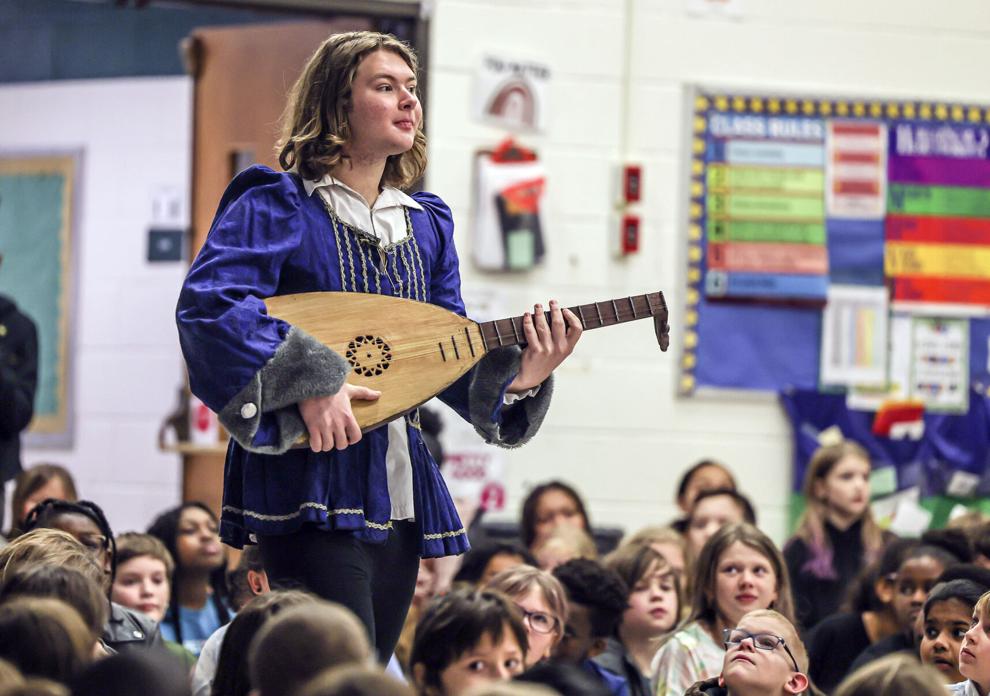 Feeling warm
It takes a complete cast to perform numbers that can be brimming with stomping and clapping. Doing her part to build the show's ensemble is BHS junior Janna Alshabah.
While her role doesn't have a name, she said she loves the opportunity to create her own character. Alshabah plotted her character's title and backstory, and said: "This is what brings a character to life, even if you don't have lines."
That's also taught her how she can contribute to a production without a named role.
Students have learned a lot more in Guevara's theater class, Alshabah said, like dissecting different playwrights and doing character work. She noted the Theatre 101 course at BHS is dual-credited with Heartland.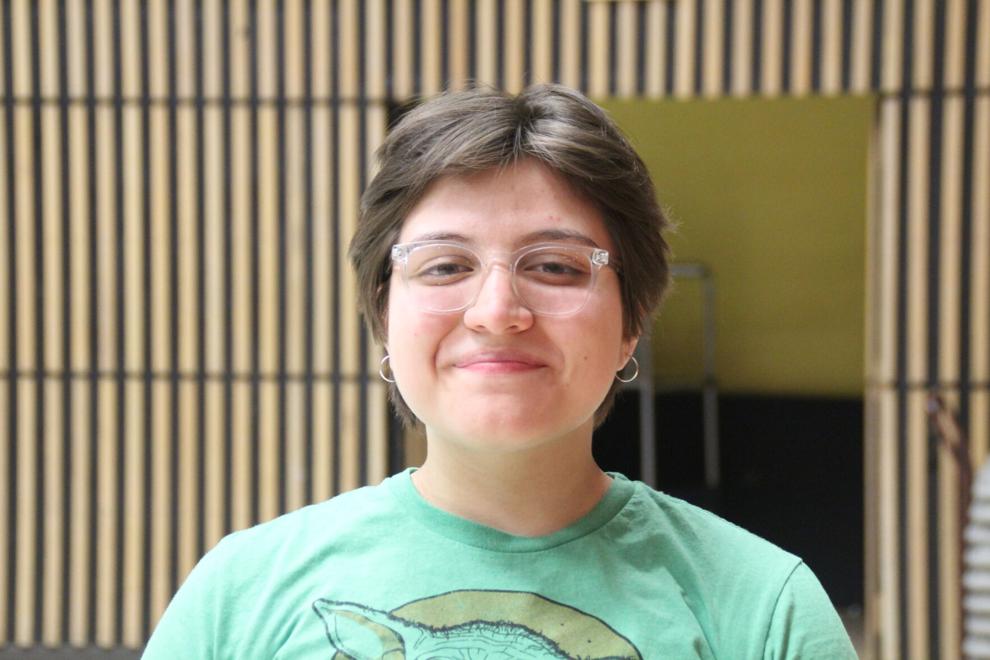 Drama offers more than a creative out for Alshabah. With her passion for performing, she said she forgets what makes her anxious or overwhelmed, and she can extend a helping hand to underclassmen.
Alshabah said there's a diverse group of kids involved in the arts at BHS, and as an Arab-Latino herself, she's doing something her culture isn't necessarily accustomed to.
For every musical she's been in, Alshabah can testify they share a "sense of warmth" within their community.
"If one of our people is down, the whole cast is down," Alshabah said.

On stage: 'The Lifespan of a Fact' at Heartland explores truth, accuracy
A major part
Behind the curtain are many hands working sets swift and silently. BHS sophomore Katie Beitzel is one of those hands, heading the run crew for this production.
The crew is tasked with moving pieces of the set on and off stage. Between scenes, Beitzel said she may have to run underneath the stage to get to the other end, because "you can't run across the stage in the middle of the scene."
Gazing upon the sight of stony castle walls and railings constructed in time for Friday rehearsal, Beitzel said it looked amazing. She proclaimed that it took blood, sweat and tears to build over about six weeks. They also had to expand the stage outward.
Pointing to the railing spindles, Beitzel said she cut out each one of them. She estimated over 60 hours of labor she personally put into the production. That's on top of schoolwork and learning how to drive.
Beitzel noted all cast have to spend at least five hours doing stage tech work for each show. Beitzel said that teaches them the parts of production they wouldn't see if they were just acting.
Taking on a leadership role has also taught Beitzel how to work with others, build a team and develop a management system. She said she's learned who can stay quiet on set when working together.
That's necessary, she said, because if they're not dead silent, the microphones may pick up the noise and distract the audience.
It's her fifth production with BHS drama. Beitzel said she got started in theater in sixth grade.
"It's a major part of my life," she said.
Who owns some of the most valuable art collections in the world?
Contact Brendan Denison at (309) 820-3238. Follow Brendan Denison on Twitter: @BrendanDenison