In the 21st century, New Zealand is widely hailed as home to a progressive Labour government, a hi-tech film and TV industry, formidable wineries and sagacious singers Lorde and Aldous Harding, alongside much else. It's a far cry from the 1960s when the conservative National Party government maintained "rule Britannia": little television – and zero film – was homemade, local brewery DB's tasteless beers were the nation's tipple and popular musicians tended to faithfully replicate British stars. But cracks in a conformist society began to appear towards the end of that decade, as a homegrown counterculture sprang up thanks to the government's support for the US war in Vietnam and rock music developing into a vehicle for dissent.
For a nation now attuned to reevaluating its post-colonial history, there has been surprisingly little attention paid to this period when youthful energy disrupted Kiwi society via protest, humour, poetry and music. A new book, Jumping Sundays: The Rise and Fall of the Counterculture in Aotearoa New Zealand, details how, inspired by the Beats and the Beatles, an array of maverick personalities began shaking the nation out of its somnolence.
By documenting the first stirrings of an underground rock scene, Jumping Sundays has spurred interest in the musicians who soundtracked this remarkable era. At the turn of the 70s, says author Nick Bollinger, bands on the lucrative brewery circuit served as human jukeboxes forced to play Top 40 hits. Meanwhile, "the psych bands played on campus or at a few clubs dedicated to hippies, or in back yards at parties. They were largely ignored by media and record labels so there's not a great deal of evidence of that scene. But, for a few years, they captured something fresh and exciting."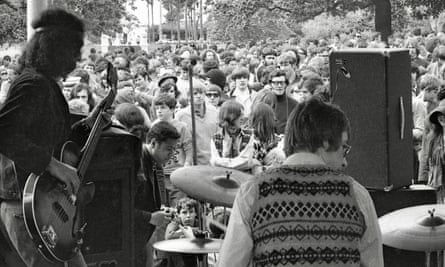 Few of them recorded, but those who did loosely divide into two camps: the likes of Space Farm, the Human Instinct and Doug Jerebine were inspired by the acid-blues firepower of Cream, Jimi Hendrix and Rory Gallagher; while Mammal and Blerta used jazz and R&B to create a more freeform, improvised sound. Psych folk (Tamburlaine) and boogie (Highway) rounded out the scene.
"These bands were a local simulation of what might have been happening at the Avalon Ballroom," says Bollinger, citing San Francisco's countercultural ground zero. "They'd read about it and decided they could do it – very much a product of the drip feed of information mixed with Kiwi ingenuity."
The band who made the biggest impact were Blerta (Bruno Lawrence's Electric Revelation and Travelling Apparition). Formed in 1971 as an improvised music and theatre cooperative led by Lawrence, an extrovert jazz drummer, Blerta's anarchic performances featured homemade 8mm films directed by trumpeter Geoff Murphy with Lawrence in leading roles. Broadcaster Television New Zealand (TVNZ) commissioned Blerta to make short films and, in doing so, launched the collective as pioneers of independent Kiwi cinema. Murphy's films (often starring Lawrence) were praised by esteemed New Yorker film critic Pauline Kael, while Jack Nicholson once called Lawrence his favourite actor.
Through invention and sheer bloodymindedness, Kiwi psych bands helped lay the groundwork for the local film industry, Flying Nun Records and the foregrounding of Māori and Polynesian voices. The Human Instinct were a power trio featuring guitarist Billy TK (AKA Billy Te Kahika), who was often billed as "the Māori Hendrix": their 1970 album Stoned Guitar is storming, sulphuric acid rock. Space Farm's eponymous 1972 debut album found the quartet cranking out primal, mescaline-flavoured anthems that could now be considered Krautrock's South Pacific sibling.
Other acts thrived live. From 1971, Highway's only album is enjoyable if nothing compared with their live shows, where the quintet would jam out Allman Brothers-worthy improvisations. And Mammal were celebrated for epic live workouts in which the band might travel from country into surf rock then Sun Ra spaciness before ending with guitar wig-outs. Poet Sam Hunt featured on their lone album, Beware the Man (the title track is a paranoid classic), and they toured from Invercargill, the country's southernmost city, to Kaitaia, in the far north of the North Island, playing to enthusiastic hippies and threatening biker gangs.
"Those stoner days were hugely liberating for me," says Julie Needham, Mammal's electric violinist and harmony vocalist. "Certainly there was an emphasis on new ways of thinking and creating throughout our culture. Back then NZ was repressive and patriarchal – abortion was illegal." Today, she looks back on those days fondly. "We spent long journeys in a Leyland bus, smoking pot and having a hilarious and happy time."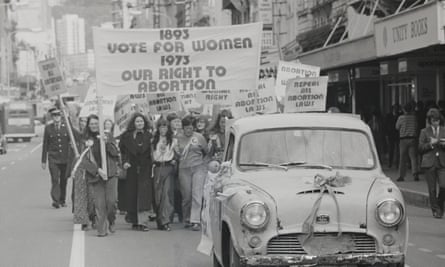 Though it wasn't to last long: vocalist Rick Bryant and band manager Graeme Nesbitt were jailed for marijuana possession, rendering Mammal extinct. But none of the members retired from music – the drummer and guitarist joined Dragon, soon to become the biggest and wildest band in Australasia – while Sam Hunt is Aotearoa's most popular poet.
In fact, none of these bands lasted long – Highway migrated to Australia then split, Billy TK left to lead communal Māori tribal band Powerhouse and Space Farm joined the Hare Krishnas, transforming into Krishna rock band Living Force. Doug Jerebine, having set foot in London's music scene and found it wanting, retired to an Indian ashram for the next 30 years.
By the early 1970s the Kiwi counterculture, perhaps inevitably, began eating itself. Career criminals Marty Johnstone and Terry Clark – later infamous as the Mr Asia drug cartel – imported large quantities of marijuana, then heroin, into New Zealand (and farther afield), initially using their contacts on the rock scene. Heroin ravaged the hippies and Clark's conviction for murder cast a dark shadow over certain 70s Kiwi rock bands. Following in the Hare Krishnas' wake came the Moonies, Scientologists, Divine Light Mission (Billy TK was a convert) and Osho's followers.
Some 50 years on from the summer of Kiwi psych rock's zenith, the scene is now viewed with affection – Flying Nun eminences Chris Knox (Toy Love) and the late Hamish Kilgour (the Clean) both recalled being inspired by the likes of Highway in their formative years, while labels in Germany, Spain and the US have reissued recordings by the Human Instinct, Space Farm and Doug Jerebine.
Much has changed for the better in New Zealand society, although the anti-vax protesters who besieged the parliamentary grounds in February could be seen as the offspring of the original Kiwi hippies: Billy TK Jr, Billy TK's son, is a blues rock guitarist and infamous conspiracy theorist.
"There's definitely a correlation between then and now," says Bollinger, "but I like to think of that era as one that broke down barriers and got Kiwis creating in a way that expressed the culture of this country. Having Labour and the Greens in power here could be seen as the counterculture's positive legacy." Meanwhile Stoned Guitar still sounds like the soundtrack to an uprising. And, in many ways, it was.