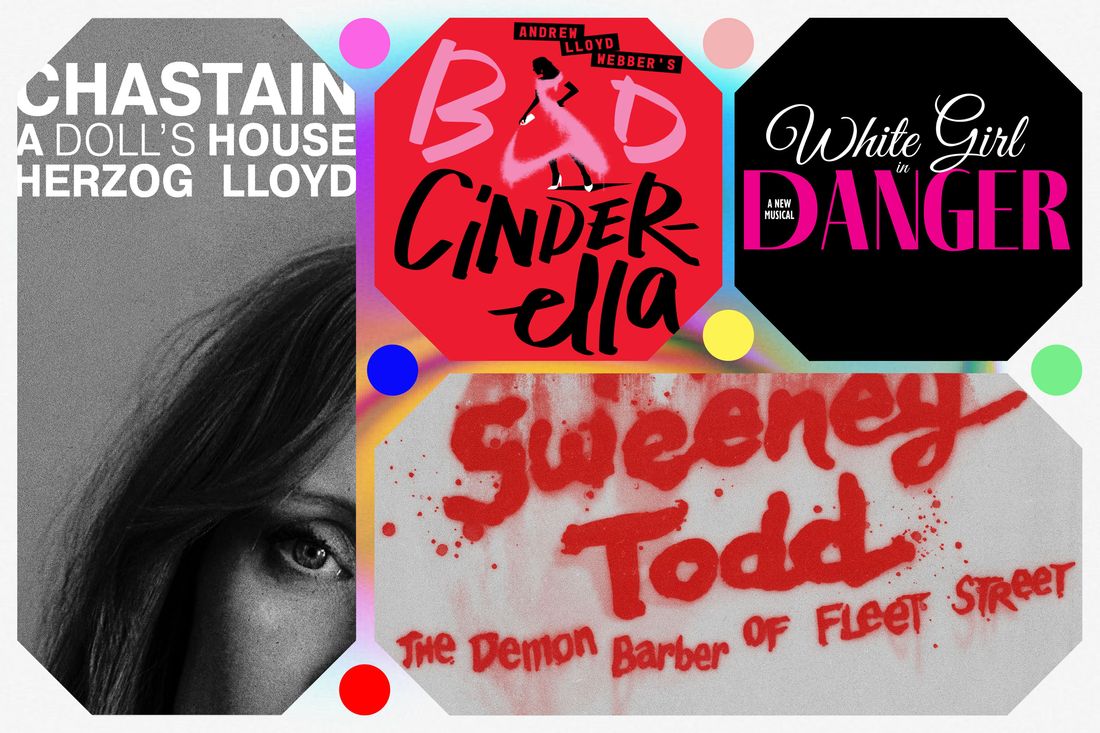 Photo-Illustration: Vulture; Photos courtesy the productions
In the last weeks of 2022, a slew of Broadway productions, some with real promise (Ain't No Mo') and some less so (KPOP, Almost Famous), posted closing notices. In those same weeks, several shows posted record ticket sales in the last week of the year, including Funny Girl, Six, and that old cash machine The Lion King. What this means is that the Fabulous Invalid is finally back to its usual semi-predictable, mostly recognizable self now, to a great extent recovered from that unprecedented year spent in cryonic suspension. As usual, we'll get a few West End imports (one with a puppet tiger) as well as star-driven dramas, but there's also a mysterious not-quite-new Kander and Ebb project and a countrified comedy about corn. Off Broadway, you'll a new project from the creator of A Strange Loop as well as a rare non-Raisin Lorraine Hansberry revival. It wouldn't be a spring season without a glitzy revival coming right under the Tony deadline, and this time there are two: You get to take your pick of sunny Camelot or the great black pit of Sweeney. Not to mention the biggest sign that things are back to normal: the return of Andrew Lloyd Webber.
Atlantic Theater Company
In previews January 20; opening February 14
It's not related to the Taylor Swift song, but yes, it's a musical, with a book by Simon Stephens and music by Mark Eitzel telling the story of a man trying to save his West Village restaurant.
MCC Theater
In previews January 26; opening February 14
Previously seen at Soho Rep, Hansol Jung's unnervingly kinetic drama centers on the story of an off-the-books adoption, with the child embodied in the form of a puppet.
Laura Pels Theater
In previews January 26; opening February 16
Katie Holmes heads Off Broadway to play a movie star who unsettles the life of a secular Jewish novelist in Anna Ziegler's play, which also explores the relationship of a separate Orthodox couple.
Minetta Lane Theatre
In previews January 28; opening February 5
Erica Schmidt (of the Cyrano and Macbeth productions) writes and directs this new drama about a woman who begins to suspect the worst about her seemingly professional new nanny.
Signature Theatre Company
In previews January 31
Samuel D. Hunter, who wrote last summer's haunting A Case for the Existence of God and the film The Whale, wrote this dark comedy set in his customary Idaho about a man who has fled an Evangelical upbringing and works at a Boise Hobby Lobby.
BAM Harvey Theater
In previews February 4; opening February 23
Lorraine Hansberry's play premiered on Broadway in 1964, after the success of A Raisin in the Sun and just before her death at 34. This production marks its first major New York revival, starring Oscar Isaac and Rachel Brosnahan as an idealistic Greenwich Village couple.
Signature Theatre Company
In previews February 7
Sarah Ruhl adapts the story of her correspondence with Max Ritvo, a poet and former student of hers who died of cancer at 25, into a stage drama.
Playwrights Horizons
In previews February 12; opening March 5
A brother and sister "unwittingly establish a utopia in the park next to their father's house" in a new play by Agnes Borinsky, directed by the ever-experimenting Tina Satter (Is This a Room).
Classic Stage Company
In previews February 9; opening February 26
A Black soldier named Ulysses Lincoln tries to get home to his family in modern-day Harlem in Marcus Gardley's riff on Greek myth.
Hudson Theatre
In previews February 13; opening March 9
Jamie Lloyd has a winning formula: Strip down a classic and introduce a stage-tested movie star to the mix, as seen in Cyrano with James McAvoy and Betrayal with Tom Hiddleston. His productions typically originate in London, but he's opening this Amy Herzog adaptation of Ibsen's drama in New York, starring recent Oscar winner Jessica Chastain.
The Public Theater
In previews February 16; opening March 15
Based on the 1972 film whose soundtrack popularized reggae around the world, the musical retains Jimmy Cliff's songs and adds a new book by Topdog/Underdog's Suzan-Lori Parks.
Imperial Theatre
In previews February 17; opening March 23
Andrew Lloyd Webber cannot be stopped. Despite mixed notices in London and a premature closing for his version of Cinderella, he's brought the production to New York, added a Bad to the title, and made sure it starts performances before Phantom of the Opera closes, thus keeping his four-decade-plus Broadway streak intact.
New York Theatre Workshop
In previews February 22; opening March 13
Rachel Chavkin (of Hadestown), Liliana Padilla, and Steph Paul co-direct this play, written by Padilla, about a group of sorority sisters who take a self-defense class after a member is raped.
Lunt-Fontanne Theatre
In previews February 26; opening March 26
There's seemingly no end to the number of Sondheim revivals producers are trying to stage right now. Although this one has a starry cast, with Josh Groban as the demon barber and Annaleigh Ashford as his accomplice, Mrs. Lovett, and a primo creative team, directed by Thomas Kail and music directed by Alex Lacamoire, both of Hamilton, the real appeal may be the promise of a full 26-piece orchestra playing that lush, bloody score.
Music Box Theatre
In previews March 2; opening March 19
The 1978 revue of Bob Fosse choreography slithers, poses, snaps, and jazz-hands its way to another run.
Nederlander Theatre
In previews March 8; opening April 4
What to make of this "farm-to-fable musical"? I have no idea, but it's written by Robert Horn (of the Broadway Tootsie) and the country-songwriting team of Brandy Clark and Shane McAnally, and they really love to use corn puns in their marketing.
Gerald Schoenfeld Theatre
In previews March 9; opening March 30
A visual spectacle coming to New York from London, Lolita Chakrabarti's adaptation of the best-selling Yann Martel novel about a boy stuck on a lifeboat in the Pacific features six actors playing the role of the tiger stranded with him. They shared an Olivier Award in London; we'll see if the Tonys go for that.
Vivian Beaumont Theater
In previews March 9; opening April 13
Bartlett Sher has become the go-to director for sumptuous golden-age musical revivals, as with The King and I, South Pacific, and My Fair Lady. Here he goes medieval with a Lerner and Loewe revival starring Hamilton's Phillipa Soo and The Inheritance's Andrew Burnap and featuring a revised book by Aaron Sorkin.
Vineyard Theatre and Second Stage Theater
In previews March 15; opening April 10
After creating the recursively personal A Strange Loop, Michael R. Jackson is going into high drama for his next musical. It's about a soap-opera character named Keesha who tries to break into a primary story line in the town of Allwhite. Lileana Blain-Cruz, a master summoner of theatrical chaos onstage, directs.
American Airlines Theatre
In previews March 21; opening April 12
James Ijames reframes Hamlet as a comedy set around a Black family's cookout in this play, which won the Pulitzer in 2022, had a run at the Public Theater, and now comes to Broadway.
St. James Theatre
In previews March 24; opening April 26
Start spreading the news, they're building a new musical around that one song — but not with the plot of the Scorsese film New York, New York that it's actually from. This musical's instead set in the years after World War II among artists trying to make it (here, and therefore anywhere), and there are other songs by Kander and Ebb augmented with new lyrics by Lin-Manuel Miranda.
Samuel J. Friedman Theatre
In previews April 4; opening April 25
Laura Linney and Jessica Hecht — and when aren't you glad to see either of them onstage, let alone both? — star in a play by David Auburn (Proof) about a friendship between an artist and a housewife in Ohio during the American Bicentennial.
Belasco Theatre
In previews April 7; opening April 24
Sean Hayes of Will & Grace plays Oscar Levant, the neurotically colorful pianist and frequent TV panelist, in a play written by Doug Wright.
John Golden Theatre
In previews April 11; opening April 23
Jodie Comer, best known in the U.S. for Killing Eve, won raves in the West End for her performance as a young lawyer in this solo show.
MTC Theatre
In previews May 2; opening May 16
Not a Bible story, not a LeBron James bioplay, but instead a story about two friends (played by Glenn Davis and Chris Perfetti) and their enduring friendship built around a mutual fandom for the basketball star.
Signature Theatre Company
In previews May 16
Branden Jacobs-Jenkins, author of An Octoroon and Everybody and showrunner of FX's Kindred, writes and directs a new play about an evicted actor journeying to his father's house in Texas.
Atlantic Theater Company
In previews May 25; opening June 5
Playwright Lucas Hnath is a fan of formal experimentation, as seen in his eerie, lip-synced Dana H., and this new work is a mysterious collaboration with sleight-of-hand magician Steve Cuiffo.